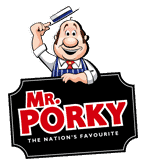 Sold in shops and bars across the land, Mr Porky has been making his delicious Scratchings and other pork snacks for over 30 years.
Our jolly butchers's smiling face has long been a sign of quality, with only the finest pork rinds used in our products so they're as popular now as they've always been.
Today, the Mr Porky's brand continues to go from strength to strength with exciting new tastes like our new Handcooked Finest Quality Pork Scratchings tempting the new generation of crackling converts.