CANADA'S LARGEST DISTRIBUTOR of Specialty Food Products
McVities/Jacobs Hovis Digestive 24x250g
Hovis packs the goodness and taste of wheatgerm into a crunchy digestive biscuit.
Brand
Jacob's
Jacob's is a brand name for several lines of biscuits and crackers in Ireland and the United Kingdom. The brand name is owned by the Jacob Fruitfield Food Group, part of Valeo Foods, which produces snacks for the Irish market. In the UK, the brand name is used under license by United Biscuits, part of Pladis.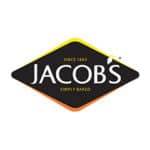 McVities
McVitie's is a British snack food brand owned by United Biscuits. The name derives from the original Scottish biscuit maker, McVitie & Price, Ltd., established in 1830 on Rose Street in Edinburgh, Scotland.