CANADA'S LARGEST DISTRIBUTOR of Specialty Food Products
The Jacob's Club Milk biscuit delivers not one but two delicious biscuits thickly covered in smooth, rich, thick chocolate.
Brand
Jacob's
Jacob's is a brand name for several lines of biscuits and crackers in Ireland and the United Kingdom. The brand name is owned by the Jacob Fruitfield Food Group, part of Valeo Foods, which produces snacks for the Irish market. In the UK, the brand name is used under license by United Biscuits, part of Pladis.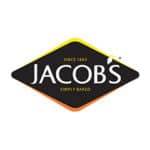 Availability: Out of stock